The Flying Dutchmant makes a whisky tours to the islands where the best whiskey's are distilled. The whiskeys are as varied as the taste of the islands vary. Each has its own typical character and beauty. In the waters around the islands you surprised by the diversity of fauna. Otters, dolphins and whales can be found here. This area is next to its natural beauty renowned for its culture and hospitality of its inhabitants.
Step aboard the Flying Dutchman and go with us on a whisky tour to one of the most beautiful sailing areas in Europe. Make the tour of your lifetime and sail with Flying Dutchman to the most famous single malt distilleries .
Enjoy the company of whiskyfriends and meet whisky professionals! See Scotland and the isles from a different angle .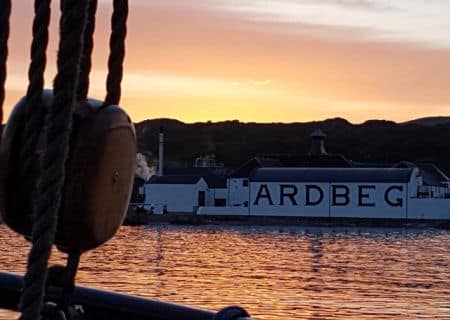 8 to 15 September 2019   £ 795,-
Whiskey trip Hebrides: We sail to the islands of the Hebrides and visit the most famous whiskey distilleries on Jura and Islay.