May 24 to June 2       

Fully Booked 
Islay Whiskey Festival: A 9 days sailing trip with the Flying Dutchman. It's an unique way to visit the largest whiskey producing island of Scotland with his 9 distilleries. We are able to anchor in front of  distilleries like Ardbeg, Lagavullin en Bunnahabhain. 
A large part of Islay consists of turf exposed to the elements: wind, rain and sea water of the Atlantic Ocean.
The peat is burned to mash the barley and gives the single malt here their salty seaweed flavor. We visit the most famous Whiskey distilleries at the Islay Whiskey Festival. It will be a beautiful sailing week with interesting whiskey tours in Scotland through a fantastic area. Link: www.islayfestival.com
Prices:
Embark: May 26 at 18.00 pm in Oban
Disembark: June 3 at 10.00 am in Oban
Our double cabins are classified in 2 categories, as they are different in size. All cabins have their own shower and toilet. Prices are per person.
Standard cabin …………. € 1485, –
Standard plus …………    € 1635, –
Single surcharge ….        € 2250, –
Included:
Full board with two times dinner on land at your own expense

Based on private shower and toilet, including bed linen and towels

Crew consisting of: Captain-Mate-Cook.

Use zodiac for landings.




Bus on Islay for transport to distilleries




1 x Whiskey tasting on board.
Not included:
Arrival and departure to the ship

Exclusive drinks

Any additional entree fees and drinks.
We sail with an international boarding company on board. The crew is Dutch but speaks English very well. Our guests come from the Netherlands, Switzerland, England, Germany and Austria.
For questions, call Klaas: 06 53231627
Possible travel schedule:
The indicated program is a guide and can be adjusted under the influence of weather, flow and wind.
Flexibility is a rule on this trip.
Day 1: Oban
Our tour to the Islay Whiskey Festival begins in Oban, a cozy fishing village located in a beautiful bay.
From 18:00 you will be welcomed on board and meet the crew and your fellow passengers. After everyone is settled, we 'll have a welcome dinner with a small Whiskey tasting, and we raise the glass on a beautiful trip. If you arrive early today, it is possible to leave your luggage and visit Oban or  the Oban Whiskey Distillery.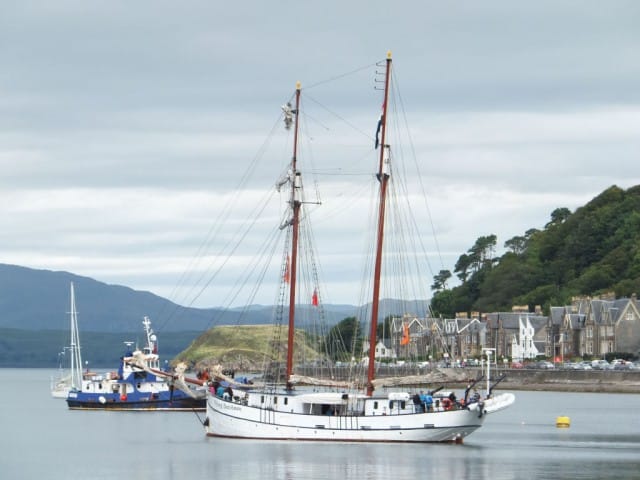 Day 2: Scottish west coast and Islay
Today we leave very early on our way to Islay. On the way there is a rich breakfast and afterwards you will have sailing instructions. We sail a truly beautiful route where you will see the rough nature of the Scottish west coast. We pass the Corryvreckan whirlpool , which is very special. Ardbeg has released a whiskey named after this: Named for the dark forces of the vortex near the island of Jura. You clearly recognize the distinctive peat and smoked flavor of the Ardbeg whiskey. After a very nice trip we arrive in Port Ellen Islay From here, we take the bus to Bruichladdich where everyone can enjoy all the activities and tastings of the excellent whiskeys. http://www.islayfestival.com/distillery-programme/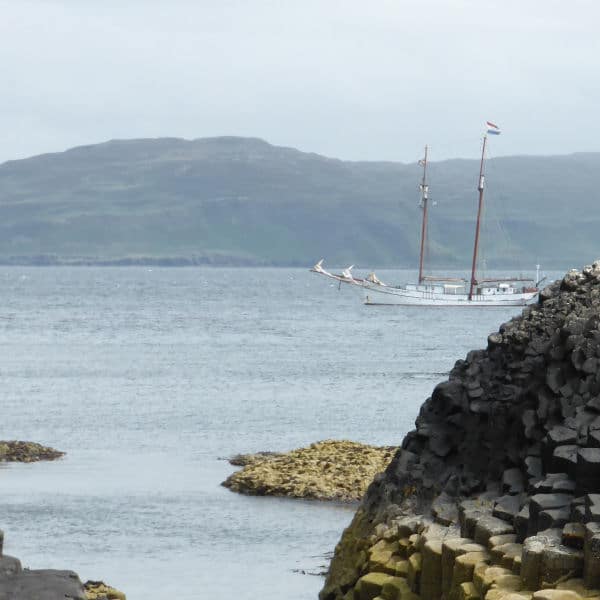 Day 3: Caol Ila
After a nice breakfast, we leave early with the ship to Caol Ila. Caol Ila has its own scaffold were we can lake with the ship. It is very special to go straight from the ship to the Distillery grounds. www.islayfestival.com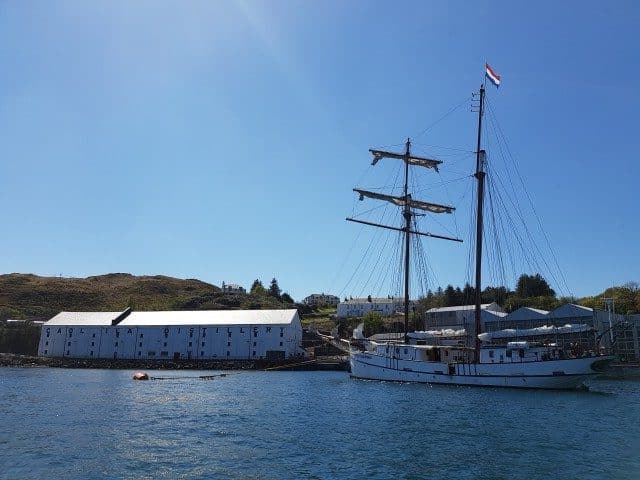 Day 4: Laphroaig
We sail  (if possible) to the Laphroaig distillery. We anchor very briefly and bring everyone with the zodiak on land. At the end of the day we return to Port Ellen. http://www.islayfestival.com/distillery-programme/
Day 5: Bowmore open day
Our sailing trip to the Islay Whiskey Festival continues with a visit to the Bowmore open day, where is also a small music festival.The Flying Dutchman stays in Port Ellen and everyone can go by bus to Bowmore. Around 16.00 we leave Port Ellen and sail to Jura with a nice program for the next day.
 http://www.islayfestival.com/distillery-programme/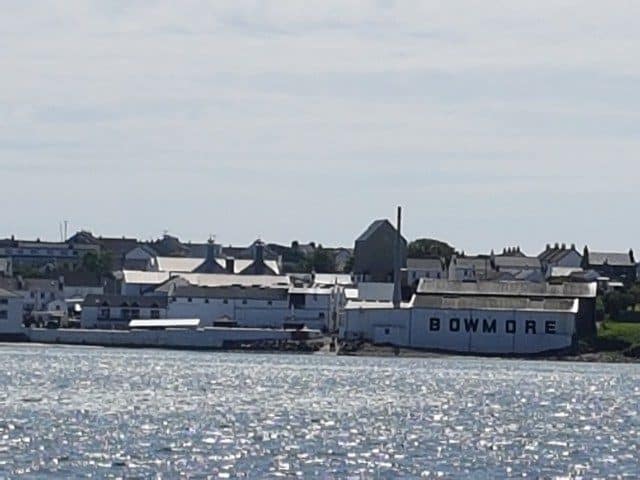 Day 6: Jura
Today we visit the open day of the Jura distillery. This is so remote that visitors have to take a lot of effort to get there. The island of Jura is a paradise of pristine wilderness and natural beauty. The name Jura comes from Norwegian and means 'Deer Island', still an appropriate name because some 5,500 deer exceed the human population of 180. Wild nature lovers can find more than 100 species of birds, including rock eagles, goats, seals, rabbits, hares, reindeer and otters. http://www.islayfestival.com/distillery-programme/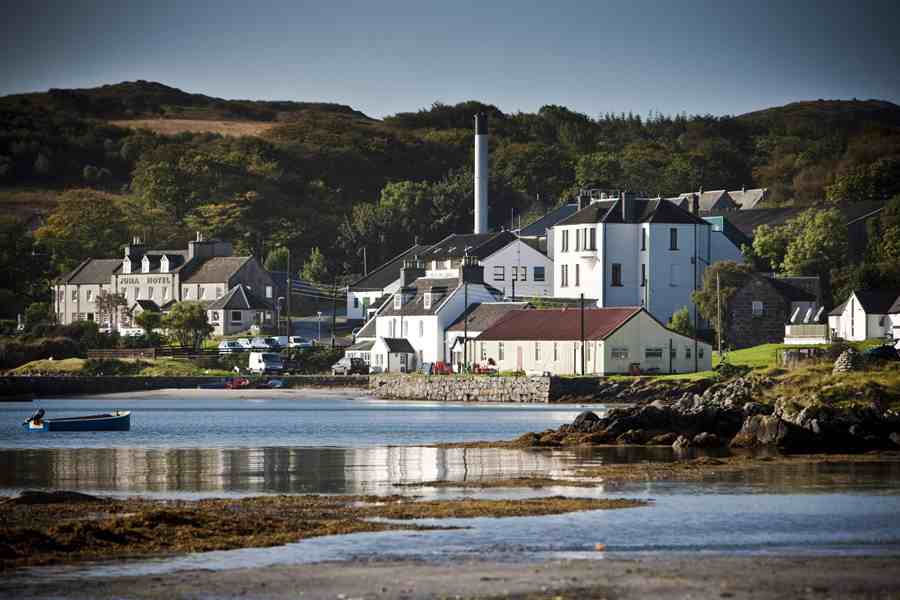 Day 7: Bunnahabhain
After a beautiful experience on the Isle of Jura, it is time to leave. We sail back to Islay and visit Bunnahabhain which is a beautiful distillery with a special look and plenty of beautiful whiskeys. At the end of the day we sail to Ardbeg and anchor in front the Distillery. It's a great opportunity to have a whiskey tasting on board after a good meal.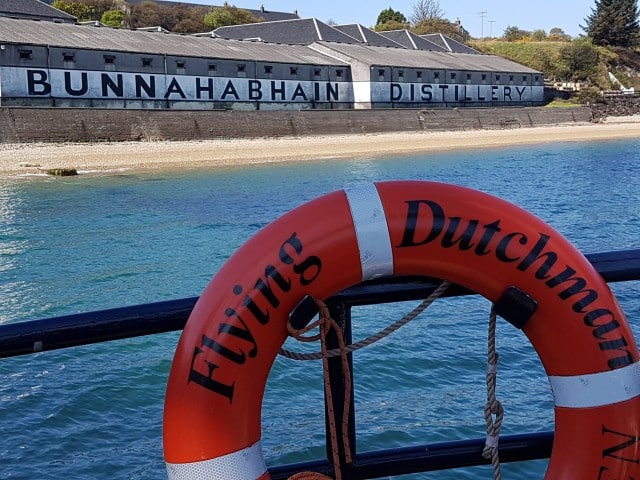 Day 8: Ardbeg and back to Oban.
Today we are welcome at the Ardbeg distillery, and maybe you can get the unique Islay festival bottle
! Around 14.00 p.m, we set our sails and have a beautiful sailing trip back to Oban. The rugged Scottish west coast and the islands in the distance give us a spectaculair view and it gives us time to think back of the Islay Whiskey Festival. In Oban we enjoy a wonderful diner together.
Day 9: Oban
Our Islay Whiskey Festival sailing trip has come to an end and it was a wonderful journey through Scotland. After a nice breakfast, it's time to say goodbye.